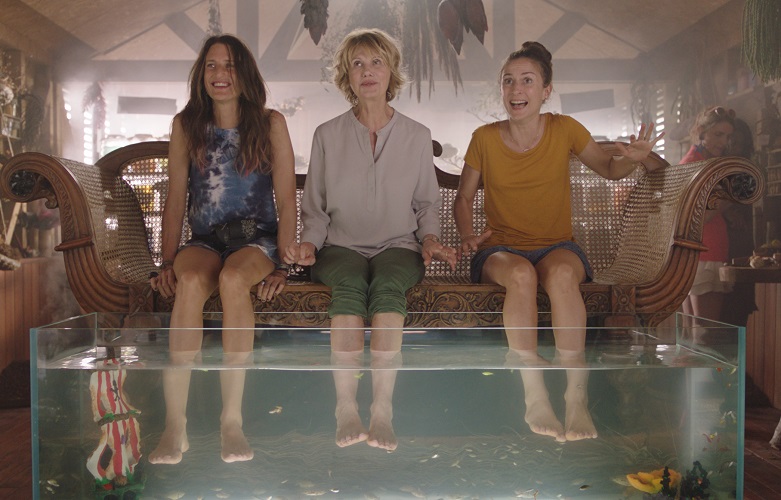 Larguées
Un film d'Eloïse Lang
Avec Camille Cottin, Camille Chamoux, Miou-Miou, Johan Heldenbergh, etc.
Sorties en salle : 18 Avril 2018
Produit par Estrella Productions & distribué par Pathé
Synopsis Rose et Alice sont deux sœurs très différentes. Rose est libre et rock n'roll. Alice est rangée et responsable. Elles ne sont d'accord sur rien, à part sur l'urgence de remonter le moral de Françoise, leur mère, fraîchement quittée par leur père pour une femme beaucoup plus jeune. La mission qu'elles se sont donnée est simple « sauver Françoise » et le cadre des opérations bien défini : un club de vacances sous les Tropiques…
Musique originale composée par Frédéric Magnon
Musiques additionnelles
Jacques in the box – Laurent Garnier
Brand New Start – Concrete Knives
One Day / Reckoning Song – Asaf Avidan & The Mojos
We Are Young – Fun feat. Janaelle Monae
Happy – C2C feat. Derek Martin
Bailar – Deorro feat. Elvis Crespo
Love Is In The Air – John Paul Young
Baby, Baby – Tropkillaz
(In the End) There's Only Love – Ewert & The Two Dragons
Tout simplement, tout doucement – Bibie
Paroles, Paroles interprété par Miou-Miou et Johan Heldenbergh
See You All – Koudlam
Come On Cama – Shaka Ponk
Fashion Drunk – Otis Stacks feat. Gif Of Gab
DiCaprio On Acid – Neumodel
Stand The Night – Fatoumata
Wigeon – Fatoumata
Tikitak Tikitak (Disk la réyé) – Jean-Marc Ferdinand
Joyeux Anniversaire – Alain Ramanisum
Etc.